During the years from 1970 onwards, the cruise industry has developed into an important holiday product.
In the 1960's, at the start of this new era, Norwegian Cruise Lines, Royal Caribbean and deluxe cruise line Royal Viking Line had their respective ships financed by Norwegian shipowners with plenty of spare cash. Carnival Cruises struggled to build a fleet converting three former liners to cruise ships (some of the the work was even carried out while the ships were in service by closing of certain areas).
The Caribbean was the principal cruising destination with ships lining up in Miami for week-long cruises to St Thomas, ST. Maarten etc.  NCL started the trade in the mid sixties with a former ferry renamed Sunward. She is regarded as the cruise ship which started modern day cruising. At the beginning of the seventies NCL, Royal Caribbean and Carnival each operated 3 or 4 ships in the Caribbean. Royal Viking Lines' Royal Viking Sea, Star and Sky sailed around the globe on longer itineraries for a more wealthy clientele.
In the UK, Cunard Line operated the Queen Elizabeth 2, which divided her time to liner service on the North-Atlantic and cruising. Cunard added four purpose built cruise ships between 1971 and  1976 and P&O disposed of their older liners which could not compete anymore with the jet airliner. Canberra, Oriana and Arcadia, liners from orgin were pushed into cruise service.
Later, outside of the Caribbean, Sitmar Cruises and Holland America focussed on Alaska, and Princess Cruises started cruising from Los Angeles to Mexico.
In North American waters, mostly older tonnage was used by Sitmar Cruises, Home Lines, Costa Cruises, Lauro Lines and Chandris Lines. This showed that cruising was still in its infancy as these ships were mostly former liners converted for cruising.
Chandris Cruises, Royal Cruise Line and Costa Cruises pioneered the so called fly-cruises in the 1980's, where passengers are flown to their ships to join them there, which was mostly in the Mediterranean and the Caribbean. Royal Cruise Line's Golden Odyssey was designed with a passenger load exactly matching the capacity of a Boeing 747!  A bit ironic that the airplane which caused the demise of liner-service now helped cruise ships fill their staterooms….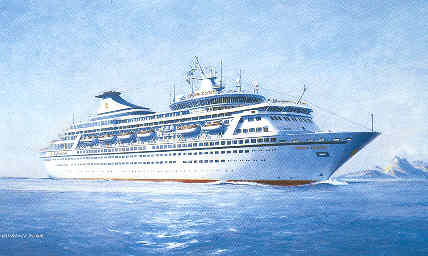 Royal Cruise Lines' Golden Odyssey
At the time companies were struggling financially as they owned mostly vessels in the 10.000 to 20.000GRT range, carrying around 700 passengers which is by far not enough to profit from economies of scale. Ships of this size were considered ideal for cruising. It would not be before the mid eighties when Royal Princess (1984, P&O Princess) and Holiday (1985 Carnival Cruises) both measuring 45.000GRT,  were introduced that cruise ship size considerably grew. Calculations showed that companies should own at least six ships to be profitable as margins per vessel were extremely low.
By far the largest cruise ship owner in the 70's and 80's was the Soviet Union, which operated three series of passenger ships, the Ivan Franko-class (5 vessels), Mikhail Kalinin-class (19 vessels) and Kirgizstan-class (9 vessels). They divided their time between liner service and cruising, in order to generate western currencies badly needed by Russia.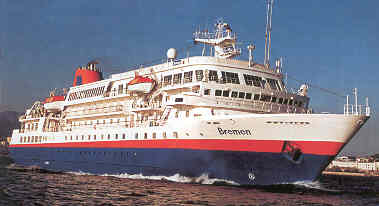 Niche cruising: soft expedition cruises with HAPAG Lloyd's Bremen
But, as cruise ships were still quite small, facilities on board were limited to a show lounge, disco, bar, dining room and a small casino, but passengers were asking for more facilities now (the ship being the destination) and companies were looking for economies of scale, more passengers on board with less crew thus saving on operating costs and increasing revenues.
NCL was the first company to take the bold step of introducing a large vesel and in 1979 they bought the laid-up once famous trans-atlantic liner France and had her rebuilt into the cruise ship Norway; the era of the mega cruise ship had begun.
She proved to be an instant success, although she measured 76049 GRT and was 315 m in length! At the time it was believed that the ideal size for a cruise ship was appr. 30 000 GRT….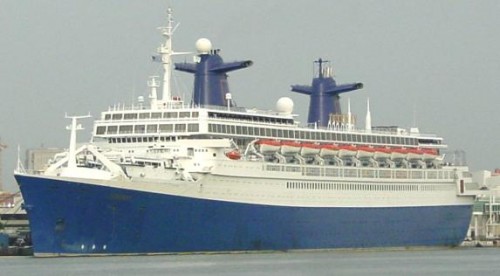 Norway (NCL) after the addition of two top decks
Royal Caribbean Int. reacted a couple of years later with the introduction of the Sovereign of the Seas (1988), Monarch of the Seas(1991) and Majesty of the Seas (1992), ships offering appr. 2300 berths each measuring 73.000 GRT.
For many years the Queen Elizabeth 2 and the Norway both classic liners (both out of service now) have ranked number 1 and 2 in size of the world´s cruise fleet in size, today they even wouldn't be found in the top 25 of passenger capacity or tonnage!
In the battle of owning the largest vessel, the introduction of the Carnival Destiny, the first passenger liner of over 100.000 GRT, was nothing short of spectacular. However, nowadays ship yards delivering vessels of this size has become quite normal.
In januari 2004, Cunard Line´s Queen Mary 2 departed on her maiden voyage. She measured 142.000 GRT and at the time was the longest liner ever built: 345 m, thus securing the lead in the race for the largest cruise vessel in the world for Cunard Cruises.
In the race of "building the biggest" Royal Caribbean Int. now owns the Oasis of the Seas, Allure of the Seas and Harmony of the Seas, measuring 225.000 GRT with a capacity of 5400 passengers towering 65 meters above the waterline.

                                                                                                                                         Oasis-class vessels, the largest cruise ships afloat
There are plans for even larger ships but it is doubtful if these plans are economically viable. Where it will end is anybody´s guess.
For those passengers looking for something different from the large cruise liners carrying 2000 passengers or more, several niche operators have started to attract travellers. Expedition cruises to remote places on ice-strengthened ships or even ice-breakers, cruises on sail(ing) ships with full rigging (computer controlled but who cares), and cruises – mostly of longer duration—on 5 star plus ultra de luxe vessels. There are plenty of choices in today's cruise industry.
Because of new SOLAS (meaning Saftey Of Lives A Sea) regulations in 1997 (updates after that ongoing), many older ships have found their way to the breakers. Companies trying to keep these ships in active service have fallen on hard times, as high investments are needed to let these ships comply with the new safety rules (like installing sprinkler systems etc.), and these ships, often fuel hungry are very expensive to run as they don´t profit from economies of scale. They need more crew members per passenger. Only a handful of ship owners like Louis/ Celestyal Cruise Lines and Serenissima Cruises still operate these vessels. They are often operating in the short cruise trade, offering trips up to 7 days.. Once well known shipping companies like Commodore Cruises, Premier Cruises and Arcalia Shipping have now all gone bankrupt…….
Introducing new, large ships has more advantages than economies of scale, as it permits shipping lines to offer spectacular facilities on their ships like large show rooms with state of the art light and sound equipment, shopping malls, ice skating rings, ice-bars and rock climbing walls on the back of the ships funnel, everything is possible on ships of these dimensions, even a lawn on the top deck or a giant led screen attached to the funnel of the ship, just name it and it has been done nowadays. More (specialty) restaurants on board have led to the introduction of new dining concepts where passengers are free to choose where and with whom they want to dine.
Entertainment on board has developed from shows performed by talented crew members notably on the former Greek an Russian ships in the 1970´s to full scale Hollywood and Vegas production shows on today's mega liners.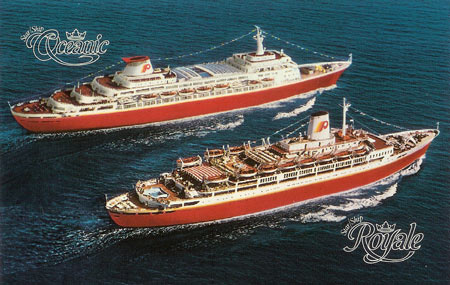 Now defunct Premier cruises was one of the last companies to operate classic vessels
Last but not least, cabins (nowadays called staterooms) with balconies, internet-access, the latest movies on television (the old fashioned cinema on board is all but gone) and even butler service or 24 hr. room service have been introduced on the new breed of cruise ships. The latest development are cabins which have access to their own spa area, pool, lounge and have 24 hr butlerservice.
'Cruising is a vacation for elderly people with plenty of money and time to spend' .
The cruise industry has done everything to get rid of this image. Obligatory formal nights and gala dinners with accompanying dress codes are no more, and if they are present, you are free to dress up and join but this is on a voluntary basis, except on the vessels in the de luxe segment. Elaborate youth programs for kids in different age groups make sure that children have a great time on board too. The average age on board has dropped considerably to around 40 on some cruises.
After the terrorist attacks on Sept. 11th, the number of cruise passengers drastically decreased, as most cruise travellers are Americans. Later, in 2012 the Costa Concordia disaster again caused a drop in passenger numbers. Luckily, both times the situation has returned to normal, both times the cruise industry has bounced back and with today' s growth rates plus the fact that there are many untapped markets (think of South America, Australia and Asia) where cruising is just starting to take off, the future seems brighter than ever…….
The major players in the market like Carnival Cruises, Princess Cruises, Royal Caribbean Int., Norwegian Cruise Lines, MSC Cruises, Holland America Line and Costa Cruises have introduced a vast fleet of mega cruise ships. Just Carnival Plc with its 11 brands like Costa, Carnival, Aida, Princess, Cunard, Holland America and P&O owns over a 100 ships!
In 2002 9.2 million people have taken a cruise, and the cruise industry is still growing, especially In European countries (UK, Germany). In 2016 this number had grown to 24 million cruise passengers! Between today and 2025 over 80 new ships are on order of which many will easily exceed 100,000 GRT adding more than 100.000 berths to the world's cruise fleet. Almost all these newbuildings will be constructed in Europe, Italian Fincantieri, German Meyer Werft, French/ Finnish STX yards being the most important players in today's cruise ship construction.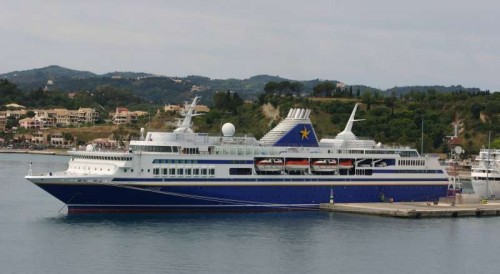 Olympia Voyager of Royal Olympia cruises, one of the fastest cruise ships in the world
All text and photographs (unless otherwise stated) © Paul Timmerman
---
---